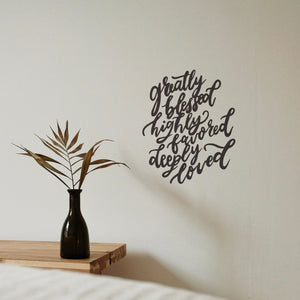 Fawn Products X Calibrushes
A beautiful collaboration that holds God's Words.
"so is my word that goes out
from my mouth: It will not return to me empty,
but will accomplish what I desire and achieve the purpose for which I sent it."
Isaiah 55:11
We hope these verses encourages you and be reminded of God's goodness daily.
Size: 180mm (w) by 231mm (ht)
Colour: Matte Black
Best applied on smooth flat surfaces: Walls, Glass, Mirror.
About Calibrushes
A talented self-taught calligraphy & portrait artist, Calista creates works of art that captures memories.
Calibrushes was founded based on the joy in giving and receiving personalised gifts. The more portraits she drew, the more she found meaning in her work.
@calibrushes